| | |
| --- | --- |
| Thirty percent of the total medical care costs are due at the hospital upon receipt of treatment | |
| | |
| | |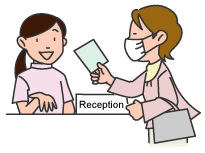 In the case of a sickness or injury stemming from non-work related activities, under the health insurance system you must take your insurance card with you when you go to receive treatment.
Insured persons and dependents pay amounts equivalent to 30 percent of their medical care costs (they also pay inpatient meal expenses and so on). Health Insurance Societies cover the remaining portion of these costs.
In other words, insured persons receive "medical treatment" as benefits in kind. Benefits in kind provided to persons presenting their health insurance cards are referred to as "Medical Care Benefits (Dpendent's Medical Care Expenses)."
See here concerning the personal cost burden for elderly persons 70-74 years covered by health insurance. >> "Elderly persons aged 70-74 pay 20% or 30% of medical costs, depending on their income"
 
 

At the Health Insurance Society, this is carried out automatically, so there is no need to make an application.

At our Health Insurance Society, in cases where Medical Care Benefits (Dependents' Medical Care Expenses) are paid for treatment, we also provide a benefit of our own (additional benefit), and so the ultimate cost-sharing by an insured person or dependent is 20,000 yen (+fractions).


Health Insurance Society provides insured persons and their dependents, at a later date, with amounts calculated by deducting 20,000 yen from monthly medical care costs paid for one sickness/injury paid at the reception desks of the relevant hospitals (excluding amounts for high-cost medical care benefit, standard inpatient meal expenses, and standard inpatient living expenses). Amounts less than 100 yen are rounded down. This benefit is not available in cases where calculated amounts total less than 500 yen. This is called a "Patient Cost-sharing Reimbursement (Dependents' Additional Total High-cost Medical Care Benefits)."
No application is necessary to receive this benefit. Reimbursements are automatically transferred to the insured person's bank account, along with his or her salary. Health Insurance Society uses the "detailed medical fee statement" it receives from hospitals as the basis for calculating reimbursement amounts. This practice results in a delay of about three months between medical treatment and reimbursement.

Scope of medical care

Medical Care Benefits cover all types of medical services required for treatment of sicknesses and injuries. Insured persons and their dependents are entitled to receive the treatment they require until they recover from sicknesses and injuries as long as they remain validly insured.
| | | |
| --- | --- | --- |
|   | (1) | Medical examination |
|   | (2) | Provision of medicines or therapeutic materials |
|   | (3) | Treatment, operation, and other medical actions |
|   | (4) | Medical care and nursing care at home |
|   | (5) | Hospitalization (excluding meal, living and heating service) and nursing care at hospitals |

Using the health insurance card for treatment

You can receive insurance benefits when you fall sick or sustain an injury. However, not all hospitals and clinics offer insured treatment. You must present your health insurance card at the reception desks of the relevant hospitals or clinics.
Hospitals or clinics which treat health insurance are called "insurance medical care institution." You can receive insurance benefits for treatment at insurance medical care institutions all over the country.