| | |
| --- | --- |
| When you become sick or injured overseas | |
| | |
| | |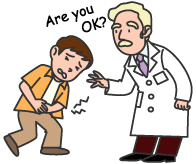 The cost of an insured person or a dependent receiving medical care while residing or traveling overseas is reimbursed at a later date upon application (this is called "payment of medical expenses").
However, the level and cost of medical care under overseas medical care policies may differ from those under Japanese health insurance policies.
The amount actually reimbursed is not the full cost paid, but an amount calculated on the basis of medical care costs under domestic insurance using as reference an "attending physician's statement" and an "itemized receipt" with a breakdown of medical care costs issued by the overseas hospital.
Please make sure you receive a document indicating the medical care received and an itemized receipt with a breakdown of medical expenses.
@
@

If you are treated overseas, attach the following required documents to an "Application For Medical Care Expenses" and submit it to the Health Insurance Society.

Procedural
Documents:

| | |
| --- | --- |
| 1. | "Application Form for Overseas Medical Care Expenses" |
| 2. | "Attending physician's statement" issued by the overseas hospital |
| 3. | "Itemized receipt" issued by the overseas hospital |
| 4. | Also attach Japanese translations of these documents |
| 5. | A copy of a document verifying your overseas travel (such as a passport) |
| 6. | A letter stating that you agree to the health insurance society making detailed inquiries to the overseas medical care institution or other organization about your treatment |

| | | |
| --- | --- | --- |
| | | |
| @ | When you become sick or injured overseas | |
| | | |