| | |
| --- | --- |
| When you receive treatment without your insurance card due to sudden sickness | |
| | |
| | |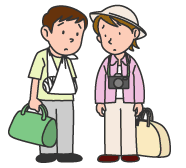 In cases such as sudden sicknesses during trips and you receive treatment without your health insurance card, you must pay the entire medical care costs on your own. However, you can apply to the Health Insurance Society at a later date and get a reimbursement. This is called "Medical Care Expenses."
The reimbursement is an amount equivalent to 70% of the amount calculated on the basis of treatment methods and costs recognized by the health insurance. In this case, the amount paid may not necessarily be 70% of the actual cost of the full course of treatment.
Please make sure to obtain a receipt; this is required when applying for Medical Care Expenses.
@

If payment has been made in advance, fill in the necessary details in the form below and submit it to the Health Insurance Society together with any receipts.

Procedural
Documents:

| | |
| --- | --- |
| 1. | "Application for Medical Care Expenses" |
| 2. | Itemized receipt(s) |