| | |
| --- | --- |
| Medical care at public expense | |
| | |
| | |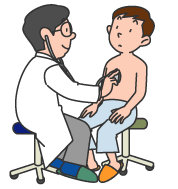 Health Insurance Societies supply medical care benefits for treatment of sicknesses developed and injuries sustained off duty. The state and local governments will cover medical care costs in whole or in part in the event patients suffer from certain designated sicknesses or satisfy prescribed conditions.
Examples of medical care covered by public expense

Some of the medical care you can receive at public expense is listed below: The following are examples of care eligible for publicly funded payment (fully or partially covered):
Cases involving compensation from the national government, including medical care for war sick or wounded or for atomic bomb survivors
Cases involving efforts to prevent public health issues, including measures to prevent the spread of contagious disease
Cases involving social welfare benefits, including medical care for those with physical disabilities
Illnesses caused by pollution attributable to corporate activities
Medical care for treatment of and research on intractable diseases
For details, check with your doctor when undergoing treatment or hospitalization for an eligible condition.
Medical care benefits provided independently by local governments

In addition to national programs that cover medical care costs at public expense, prefectures, municipalities, and other local governments in a number of cases will cover the cost of medical benefits.
The following examples illustrate these benefits:
Subsidies for medical care costs for infants and young children
Subsidies for medical care costs for people with mental or physical handicaps
Subsidies for medical care costs for the elderly
The specific nature of these subsidies and other details vary by prefecture or municipal government. For more information, contact the appropriate office of your prefecture or municipal government.