| | |
| --- | --- |
| Cases in which medical treatment is provided at home | |
| | |
| | |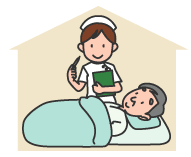 Persons who require continual medical treatment at home (persons with the intractable diseases and others judged by doctors to require such treatment based on criteria established by the Ministry of Health, Labour and Welfare) 30% of the actual cost in the event they receive Home-Visit Nursing Care from designated home-visit nursing care service providers. This is to allow such persons to receive nursing care at home without the need to worry about the expenditures involved.
In principle, long-term care insurance takes precedence over health insurance in the event a person entitled to long-term care insurance benefits requires long-term care.
 
 

At the Health Insurance Society, this is carried out automatically, so there is no need to make an application.

At our Health Insurance Society, in cases where Home-visit Nursing Care Expenses are paid fir treatment, we also provide a benefit of our own (additional benefit), and so the ultimate cost-sharing made by an insured person or dependent is 20,000 yen (+ fractions).


Health Insurance Society provides insured persons and their dependents, at a later date, with amounts calculated by deducting 20,000 yen from total monthly personal cost-sharing amount (excluding High-cost Medical Care Benefits). Amounts less than 100 yen are rounded down. This benefit is not available in cases where calculated amounts total less than 500 yen. This is called "Additional Home-visit Nursing Care Expenses (Dependents' Additional Home-visit Nursing Care Expenses).."

How to use the service

Patients or their family members make a request to their family doctors.
The doctors then give instructions to the nearest visiting nurse stations to provide the service. Patients or their family members also receive the instructions from the doctor, and apply for the home-visit nursing care service to the designated stations.
Who are the "persons with intractable diseases" entitled to Home-visit nursing care Service?

| | | | | |
| --- | --- | --- | --- | --- |
| | | Persons with the intractable diseases who are entitled to Home-visit nursing care service include persons suffering from intractable diseases, persons with severe handicaps, middle-aged persons at their working prime who become bedridden following apoplexy and other form of stroke, and cancer patients opting for terminal care at home. | | |